Clare Maple-Brown
Clare graduated from The University of Sydney with a Bachelor of Applied Science (Physiotherapy) in 2000. She worked for a year in various physiotherapy fields at The Prince of Wales Hospital, before specialising in Hand Therapy in 2002.  She has since worked in two Hand Therapy private practices in Sydney and in the NHS in Great Britain, before opening Bondi Junction Hand Therapy in 2010.
Clare is a Certified Hand Therapist, a full member of the Australian Hand Therapy Association and the Australian Physiotherapy Association.  She presented to the NSW Hand Interest Group in March 2014 on "Tendinopathy" and  in October 2014 at the Australian Hand Therapy Association Conference.  She was on the organising committee for the 2011 Australian Hand Therapy Association Conference and also presented at that Conference.
She is passionate about the importance of our hands and strives to maximise recovery after injury.
Clare is now back from maternity leave after the birth of her second child at the end of 2016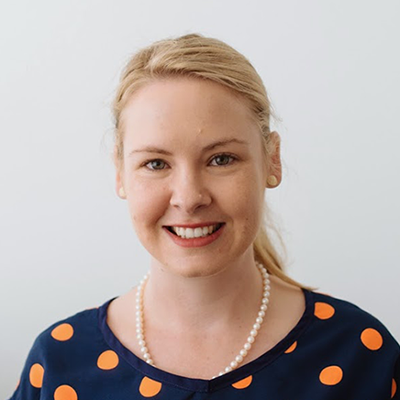 Lucille Roberts
Lucille graduated in 2003 with a Bachelor of Occupational Therapy from the University of Queensland. In 2011 Lucille also became a Certified Hand Therapist after passing the exam and meeting the experience criteria.
Lucille has worked in a number of OT clinical areas, enjoying the variety that OT has to offer, including working rurally for a year, and also working for the NHS in England.
Over the years hand therapy has become her preferred area of practice.  She really enjoys working with the patients through their recovery and seeing them regain their hand function.  She has been working consistently in hand therapy since mid 2007.
Outside of work she enjoys socialising, likes to cook and collect recipe books and loves to read.
Hannah Munro
Hannah Graduated from the University of Sydney with a Bachelor of Applied Science (Occupational therapy) in 2005.
Throughout her career she has gained a vast array of experience working in clinical areas with a particular focus on rehabilitation of the hand and upper limb. These clinical areas include hand therapy, rheumatology, burns, neurology, stroke, amputees, lymphoedema, connective tissue disorders and paediatrics.
Hannah also currently works as a hand therapist at The Children Hospital at Westmead where she specialises in hand trauma and congenital hand abnormalities in babies and children. She enjoys working with children and their parents/carers to achieve improved hand function and participation in play, school, sporting and other extracurricular activities. She also has expertise in assessing and retraining for handwriting and other general hand skills required for school participation.
Due to her diverse clinical background in the field of hand and upper limb rehab, Hannah was invited by The University of Sydney to lecture the 4th year and Masters Occupational Therapy subject "Rehabilitation of the Hand and Upper Limb" in 2013 and 2014.
In her spare time Hannah enjoys skiing, outdoor adventures, sewing/craft and going to see live music and theatre.
Hayley McLellan
After graduating from the University of Sydney with a Bachelor of Applied Science (Physiotherapy) in 2012 Hayley started her career in the public hospital system. She has worked across 5 different hospitals in many clinical areas including; musculoskeletal, orthopaedics, burns, intensive care, acute neurology, aged care, surgical, paediatrics and rehabilitation. She has also volunteered at the National Burns Hospital of Hanoi and the formerly known Peter Hughes Burns Foundation.
Hayley's unique experiences in the Concord burns unit sparked her interest in hands. It is the complexity of the hands and the creativity of therapy that she finds so fascinating. Hayley began her hand therapy career at Auburn Hospital and continues to work there in addition to Bondi Junction. Hayley is an associate member of the Australian Hand Therapy Associate and a full member of the Australian Physiotherapy Association.
She has completed courses in Fundamentals of Hand Therapy, Wound Management, Splinting and Casting.  She did a two week intensive training in Darwin in Hand Therapy called HandSpark and attended the Australian Hand Therapy Conference.